is a graphic design studio.
We make Design + Technology come together
Work

The people behind

It all begins with an idea. Maybe you want to launch a business. Maybe you want to turn a hobby into something more. Or maybe you have a creative project to share with the world. Whatever it is, the way you tell your story can make all the difference. it matters
Work
Aiayu


Lookbooks / sales material /
We have developed and produced lookbooks and other branding and marketing material for aiayu through a number of years.
Pilgrim
Sales and marketing material
Katrine Axholm – Therapist


Corporate image / branding / website / Social media campaigns / book covers
Katrine is a therapist and for severel years we have produced all her branding material including her website that besides a lot of content concerning therapy contains bookingsystem and a webshop.
Real estate agent Jesper Nielsen


Campaigns / corporate image / branding / Real estate agent Jesper Nielsen has focus on visual marketing and a strong SoMe awareness.


We create campaigns, brochures, coordinates photoshoots for marketing materiale and ensures that all material is produced in high quality and with a red thread through all media.





BoConcept Business


Catalogues / product sheets/
Based on BoConcept's corporate ID and design regulations, we produced catalogues and product sheets for their entire business line.



BMW Group


Online and offline material /
In close collaboration with the marketing department, we have developed brochures, paperline and an online based leasing calculator for BMW.


Greg Yale Lighting Design


Logo / paperline / marketing material /




MINI
Online and offline material /
In close collaboration with the marketing department, we have developed brochures, paperline and an online based leasing calculator for MINI.



Ejendomsvisioner


Logo / paperline / brochures

Karen Sophie Lerhard – Food mentor


Website / Karen Sophie is a food mentor and needed a relevant and present website, which besides to inform about her work and contain online booking should also be a blog and portal with lots of reading material about our relationship with food.


karensophie.dk


GrowingFeet


Webshop design / Sales and marketing material /
GrowingFeet.dk






New Day Company

Logo / paperline / website /




3 GH – 3 generations under one roof


Identity / Look & Feel /
With the ambition of getting interested investors and raising capital for a project to build sustainable three-generation-houses, we developed a logo and a teaser for intern use.





Karin Winther – multibrand store


karinwinther.dk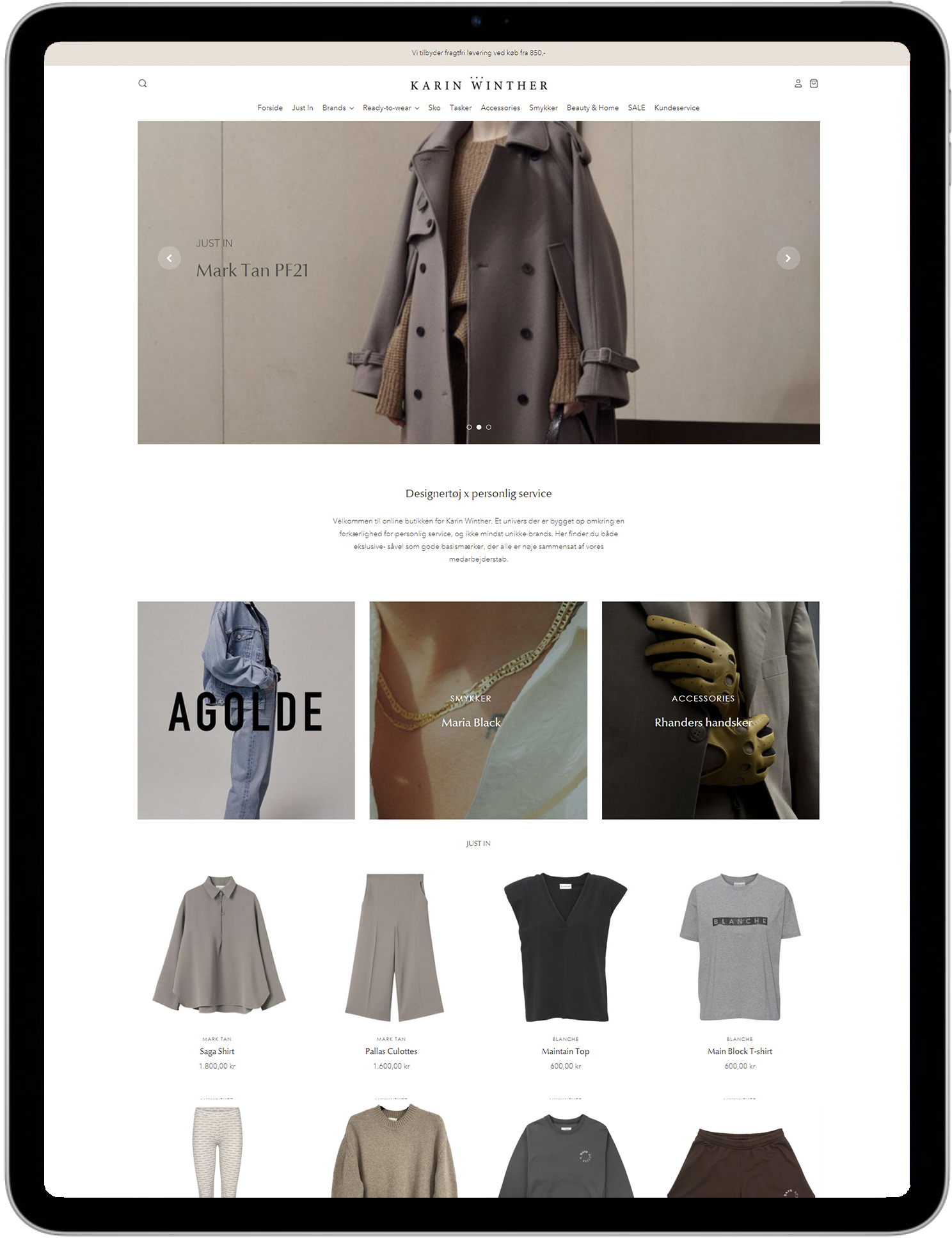 ---
it matters / Bilbaogade 2, 2. right door / 2150 Nordhavn / +45 2020 9006
The people behind – meet Louise Hye and Claus Hvass
Together we have many years of experience in graphic design, branding, communication, 3D, VR, film and technology.



Since we started macvaerk more than 25 years ago and it matters 11 years ago, we have worked to become better at helping our customers – every single day. This is why we are in a completely different place today than we were back then. The core is still the credible story, but the terms, the media, the concepts and the way of communicating are new and constantly evolving. We have the necessary experience to be able to maintain the common thread in our customer's visual communication both online and offline, B2B and B2C.

Louise has a background as a graphic designer and takes care of everything visually and content: building up brands, designs, and preserves and continues graphic identities and she is often used as a design police, constantly keeping an eye on that our customers can be recognized no matter where they appear.

Claus is passionate about emerging technologies and design with no frontiers. He applies over 25 years of experience to help organizations take new ideas and transform them into revenue generating products and solutions. He has managed small to large, complex projects for Fortune 500 companies. He takes bold and creative measures from conception to tangible completion. He has a background in 3D and photography and with his playful approach to the underlying technology; he has a more technically heavy role. Claus builds worlds in both 3D and VR, produces films and audio and codes websites among many.

Together we are the best team with the combination of a strong aesthetic sense and the heavy technical insight. If there is something we do not have the skills for, we have a number of partners that we have worked with for many years; for example experts in SoMe, photographers and copywriters.
---